Awhile back, Nick and I wanted to have a party, but we couldn't decide what kind. We wanted to have people over to watch the various Dungeons and Dragons episodes of television shows (Freaks & Geeks, IT Crowd and Community) but we also wanted to have a fancy tea party, because we are fancy.
My idea was to smoosh them together and have a Dungeons and Dragons Tea Party! Now that we had a theme, I wanted to make a few decorations, because what's a party without ambiance?
I found these
Papercraft Dice downloads
on Q Workshop (they make tons of awesome dice, and they also make custom dice, but they're expensive). Easy to print out and fold! Perfect!
I love putting interesting stuff in the apothecary jar, so that was the plan with these. I also chose to leave the blank because 1) I'm lazy and 2) I thought they looked cool and 3) I didn't want to do it wrong. So here's the final "decorating for a D&D tea party" product:
I added some vase fillers in the same colors, as well as a couple of Christmas ornaments to fill it up a little more. We did a D4, two D8's, a D12, and a D6. They were all pretty fun to do, but I wasn't about to go through all the effort of doing a D20 (I did print it out though).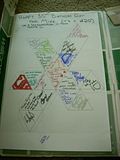 As usual, during my search, I came across something awesome on the internet (on
Will Wheaton's blog
to be exact). A sweet geek lady printed out a papercraft D20 template, and went around to conventions getting her boyfriend's favorite writers, actors and creators to sign each side! Then she put it together for an amazing birthday present!
Click on the picture to see more.
So, geeky decor, and possible geeky gift idea! Papercraft dice are so cool.